AQUARENA Water Slides at the Quellenhof, St. Martin
AquaFun
The water play park AquaFun, for children between 4 and 14 years, guarantees lots of fun and action and turns water into an experience. Even the smallest areas (from 70 m²) can be used attractively and effectively, as the AquaFun water park creates different levels by connecting the individual elements.
You don't even need a water basin for this area. The running operating costs are kept within limits.
Amonti & Lunaris Wellnessresort, Ahrntal, Italy
"Bilder: Amonti & Lunaris Wellnessresort" Fotos: Michael Huber
Baujahr 2018
Alpiner Lifestyle wird hier groß geschrieben – selbst im Kinder-Hallenbad. Ein perfektes Beispiel wie moderne Architektur it ansprechenden Attraktionen harmoniert.
Breitrutsche
Röhrenrutsche mit zahlreichen LED-Effekten
Froggy – Spritzfigur
Kinderrutsche
AquaFun – Hotel Alpenpark, Seefeld
Ausstattung:
Röhrenrutsche 40 m

Kippfass

Spritzblume

ActionWheels

Spritzkanonen 2 Stk.

Wasserkaskade

Wasserspielwand

Bodenbeschichtung
AquaFun-Fläche ca. 100 m²
AquaFun – Schloss Dankern, Haren
TrioSlide 16 m

Turborutsche 14 m

Röhrenrutsche 20 m

Kinderrutsche 17 m

ActionPlattformen, 2 Stück

Dschungelbrücke

Rutschenturm

Kriechröhren

Wasserkaskade

ActionWasserturm

Wasserspielwände

Kippfass

Kippeimer

Netztunnel

Spritzkanonen, 9 Stück

Spritzblume

ActionWheels

Treppen, 2 Stück
AquaFun-Fläche ca. 300 m²
AquaFun – Alpenresort Schwarz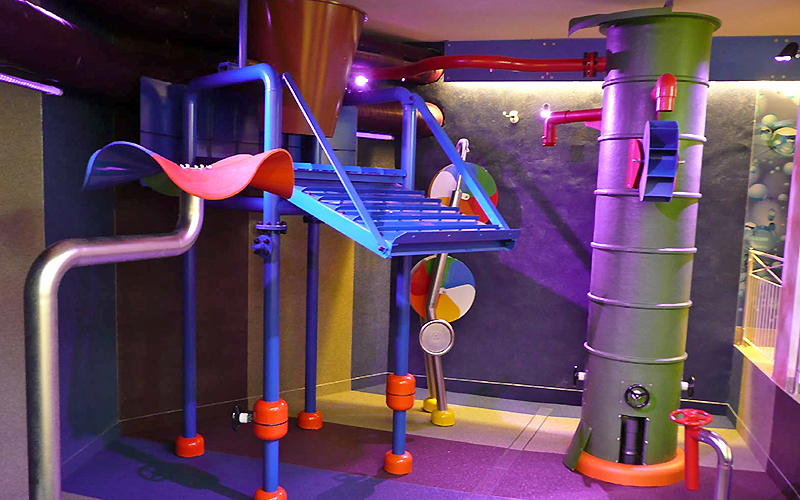 We have already created kids' experience worlds for the following hotels, amongst others:
Kunde
Ort
Produkt
Baujahr
Almhof
Gerlos (A)
RR1200
2008
Alpenhof
Meransen (I)
Alpenhof
Oberjoch (D)
AquaRacer 125 m
2012
Alpenresort Schwarz
Mieming (A)
AquaFun, Spielgeräte, Spritzfiguren
2013
Alpenrose Lermoos
Lermoos (A)
Spielschiff, Thematisierung Piratenland
2003
Bretanide Resort
Brac (HR)
TrioSlide
2012
Cavallino Bianco
St. Ullrich (I)
TrioSlide
2013
Club Funimation
Borik-Zadar (HR)
WR1200 73 m
2004
Familotel Schon
Schönberg (D)
Kinderrutsche WR600, Regenbogenrutsche, Spritzfigur
2009
Familotel Sonnenpark
Willingen (D)
Spritzfigur
2011
Posthotel
Serfaus (A)
Wasserrinne, Spielsteine, Wasserrädchen
2010
Glocknerhof
Berg/Drautal (A)
WR1200
1996
Großglockner Mountain Resort
Kals am Großglockner (A)
Kinderrutsche KR600
2012
Hallenbad Seekarhaus
Obertauern (A)
Thematisierung Felsengrotte mit Wasserfall
2010
Hotel Alpenpark Kaltschmid
Seefeld in Tirol (A)
Kinderbecken, Kippfass, Spritzfiguren
2012
Hotel Bareiss
Baiersbronn/Mitteltal (D)
Kinderrutsche
2002
Hotel Crystallo
Katschberg (A)
Röhrenrutsche 40 m, Babybecken, Kinderrutsche mit Kunstfels, Spritzfiguren

2004
Hotel Diadora
Punta Skala, Petrcane Zadar (HR)
Thematisierung Eismeer mit Iglu, Leuchtturm mit Rutsche, Spielschiff, Spritzfiguren, Rutsche 100 m
2009
Hotel Felben
Mittersill (A)
RR1200
2001
Hotel Funimation Acquap
Katschberg (A)
Babybecken, Rutsche mit Kunstfels, Röhrenrutsche 40 m, Spritzfiguren
2005
Hotel Permon
Podpanske (SK)
RR1200, AW 2,5
2009
Hotel Peternhof
Kössen (A)
Spielschiff, Spritzfiguren, KR600 12 m
2009
Hotel Schneeberg
Ridnaun (I)
Hotel Sonnenhof
Going (A)
KR600 13 m, Thematisierung, Wasserfall, Märchenbaum, Spritzfiguren
2005
Hotel Vier Jahreszeiten
Goslar (D)
KR
2004
Hotel Waldhof
Großarl (A)
Kinderbecken mit Rutsche, Spielschiff, Kinderrutsche
2004
Post Lech
Lech (A)
KR600
2010
Ramada Treff
Goslar (D)
Schloss Dankern
Haren (Emsland) (D)
AquaFun, TrioSlide
Wasserwand
2014
Sieben Welten
Künzell (D)
Baumhaus mit Kinderrutsche, Spritzfiguren
2010
Skene House
Aberdeen (GB)
Sonnenalpe
Nassfeld (A)
AW
2011
Sonnentherme
Lutzmannsburg (A)
SkyClimbing
2012
Sporthotel Kogler
Mittersill (A)
RR825 56 m, Thematisierung, Spritzfiguren
2012
Sporthotel Stock
Finkenberg (A)
WR1500 70 m, Wendeltreppe, Spritzfiguren, Zeitmessung
2012
Wellnesshotel Dilly
Windischgarsten (A)
AquaFun
2012
Freitzeitbad Fuerthermar
Fürth
AquaFun
2014
Erlebnisbad Titania Neusäss
Neusäss
Kids Area Art Line
2015
Hallenfreibad Burgdorf
Burgdorf
Kids Area Art Line
2015
Freibad Wallgaubad
Nenzing
TrioSlide
2015
Hotel Huber
Vals/Mühlbach (I)
ScyClimbing
2015
Strandbad Frankenthal
Strandbad Frankenthal (D)
WR0600, Kippeimerspiel
2015
Hotel Jägeralpe
Warth am Arlberg (A)
Kids Area ArtLine
2015
Hotel Jägeralpe
Warth am Arlberg (A)
Kids pool
2015
Badeparadies Eiswiese
Göttingen (D)
Fassrutsche
2015
Lausitzbad Hoyerswerda
Hoyerswerda (D)
Kids Area ArtLine
2015
Lausitzbad Hoyerswerda
Hoyerswerda (D)
Playship
2015
Schiff NCL Escape
Schiff NCL Escape
AquaFun
2015
Grönegaubad Melle
Melle
Kids Area ArtLine
2015
Kaiserbad Ellmau/
Ellmau (A)
AquaFun
2015
Hallen- Freizeitbad Konz
Konz (D)
Kids Area ArtLine
2015
Kinderhotel Galtenberg
Alpbach (A)
AquaFun
2016
Kinderhotel alpina
Fügen (A)
Kids Area ArtLine
2016
Sporthotel Alpenrose
Maurach am Achensee (A)
AquaFun
2016
Therme Laa an der Thaya
Laa an der Thaya (A)
AquaFun
2016
Badeparadies Eiswiese
Göttingen
Maxifant
2016
Sonnentherme
Lutzmannsburg (A)
Kids Area ArtLine
2016
Freizeitbad Bondenwald
Hamburg-Bondenwald
Dino-eggs
2016
Maya Mare
Halle/Saale
Kids Area ArtLine
2016
Europabad
Karlsruhe
Kids Area ArtLine
2016
Hotel Königsleiten
Königsleiten (A)
Kids Slide
2016
Hotel Königsleiten
Königsleiten (A)
Climbingwall
2016
Freizeitad Mayamare
Halle
AquaFun
2016
Europabad
Karlsruhe
Kids Area ArtLine Kai der Hai
2016
Sport-und Freizeitbad Oberwengern
Wetter (Ruhr)
Orca with Handpump
2016
Bade- und Saunaland Gumbala
Gummersbach
AquaFun + WR0600 + RR0825
2016
7-Täler Bad
Dietfurth
Babypool with Attractions
2016
Rheingoldbad
St. Goar
Trio Slide
2017
Freibad
Adendorf
Turtle
2017
Förderlandtherme
Glücksburg
Lighthouse - Slide, Castle
2017
Ferienanlage Central
Flachau (A)
TrioSlide, Kidspool
2017
Hotel Furtherwirth
Kirchdorf i. Tirol (A)
AquaFun
2017
Sporthotel Winkler
St. Lorenzen (I)
Babypool +AquaFun

2017
NCL Joy
NCL Norwegian Cruise Line
AquaFun

2017
Panoramabad
Freudenstadt
Kids Attractions ArtLine

2017
Freizeitbad Atlantis
Herzogenaurach
Kids Area ArtLine
2017
Hotel Babymio
Kirchdorf i. Tirol (A)
Kidspool and Attractions
2017
Hotel Sonnenhuegel
Bad Kissingen
Kids Area ArtLine
2018
NCL Bliss
NCL Norwegian Cruise Line
AquaFun
2018
Aquapark Sommerbad
Usti nad Orlici (CZ)
AquaFun
2018
Freibad Riviera
Brno (CZ)
AquaFun
2018
Hotel Edelweiss
Grossarl (A)
AquaFun
2018
Hotel Woferlgut
Bruck an der Glocknerstraße(A)
AquaFun
2018
Amonti Lunaris
Ahrntal (I)
AquaFun
2018
Hotel Mirabell
Hafling bei Meran (I)
AquaFun
2018
Gartenhallenbad Maichingen
Sindelfingen - Maichingen
Speedo, Snake
2018
Hotel Post Alpina
Vierschach (I)
AquaFun
2018
Falkensteiner Club Funimation
Katschberg (A)
AquaFun
2018
Hallenbad
Gelterkinden (CH)
Speedo
2018
Spreewelten
Lübbenau
Kids Area ArtLine
2018
Hotel Bergfried
Tux (A)
AquaFun
2018
Zugspitzresort
Ehrwald (A)
AquaFun
2018
Hotel Andreus
St. Leonhard (I)
AquaFun
2019
Hotel Seitenalm
Radstadt (A)
AquaFun
2019
Hotel Seitenalm
Radstadt (A)
TrioSlide
2019
Neuss Südbad
Neuss
AquaFun
2019
NCL Encore
NCL Encore
AquaFun
2019
Rulantica Indoor Waterworld
Rust - Europapark
Kids Area ArtLine
2019
Freizeitbad DÜB
Duelmen
Kids Area ArtLine
2019