SkyClimbing – the climbing wall for water babies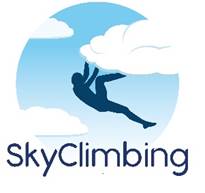 Make your diving pool even more attractive. The SkyClimbing wall – a boulder wall made from acrylic glass – is just perfect for this. The really stylish climbing wall is made from crystal clear acrylic. It can be used by two people at the same time, and is great for upgrading. 
The climbing route can be changed at any time using the existing grid of holes. Open holes can be closed over with covers.
Suitable for 8 years and over, only for swimmers

Supervision required

Design corresponds to the latest ÖNORM S4720 standard
Technical data climbing wall
| Type | Dimensions | Water depth | Reach area |
| --- | --- | --- | --- |
| Type SC-DB 460/280 | w/h = 4,60/2,80 m | approx. 1,80 m | 1,60/1,80 m |
| Type SC-DB 460/400 | w/h = 4,60/4,00 m | approx. 2,60 m | 1,60/3,00 m |
| Type SC-SI 300/600 | w/h = 3,00/6,00 m | approx. 3,40 m | 1,00/5,00 m |
| Type SC-SI 300/700 | w/h = 3,00/7,00 m | approx. 3,60 m | 1,00/6,00 m |
Sizes Standard w/h = 4.60 m / 4.0 m

Reach area: w/h = 2.60 / 3.0 m

Water depth: approx. 2.70 m (depending on wall height)
Boulder wall
Dimensions: w x h: 4.60 m x 4.0 m or option 5.0 m high

Tile thickness: approx.30 mm

Climbing area: w x h: 2.60 m / 3.0 m (4.0 m)

including holes for climbing holds in 25/ 25 cm grid

including 40 / 50 colored screw-on climbing grips

Construction in accordance with ÖNORM S4720